Marmota Limited has reaffirmed its recent 197 grammes per tonne gold discovery at the outstanding Aurora Tank project near the Challenger gold mine in South Australia.
Initial bulk leach extractable gold (BLEG) from the 100%-owned Aurora site uncovered the remarkable 197 g/t gold find over 1 metre at 66 meters downhole.
Marmota's team will depart Adelaide tomorrow to commence reverse circulation drilling as early as next week, aiming for around 85 holes at an average depth of 117m over approximately 10,000m.
"We are hoping this will be our final drill program at Aurora Tank, prior to our lodging a Mining Lease application at Aurora Tank," chairman Colin Rose said.
"The program develops a number of parallel extensions that are still open and should enable us to complete work on an optimal open pit design."
Multiple Objectives
NW Flank — Testing further extensions to the new NW flank [ see Fig. 1] The NW flank has recently tripled in strike and is yielding outstanding intersections such as:
3m @ 72 g/t gold (from 66m) including 1m @ 197g/t gold
5m @ 27 g/t gold (from 38m) including 1m @ 105g/t gold
3m @ 29 g/t gold (from 63m) including 1m @ 74g/t gold
4m @ 15 g/t gold (from 67m) including 1m @ 53g/t gold
Sub-parallel Extensions to the N and NE (in parallel to the NW flank)
Extensions at depth targeting primary mineralisation
Extensions to the east of the Aurora Tank mineralised zone
Selected drilling to aid resource modelling and optimal pit design, or where previous holes were not deep enough.
The program also includes a number of holes that form part of the Accelerated Discovery Initiative (ADI) at both Aurora Tank and on surrounding tenements (Woorong Downs and Comet) that are jointly funded by the South Australian Government under a grant awarded to Marmota [ ASX: MEU 24 June 2020 ]. Some of these holes are early-stage reconnaissance work.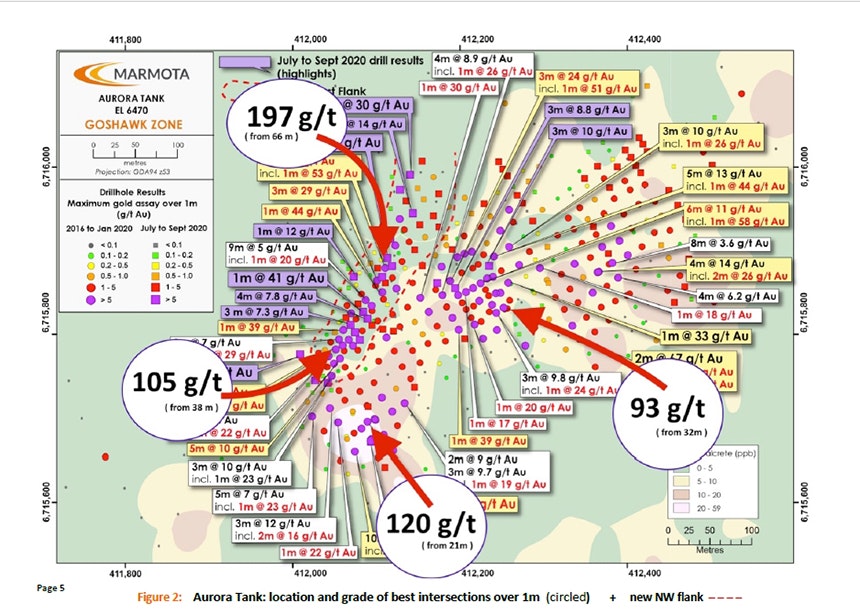 Figure 1.
MEU's Australian Stock Exchange share price has risen 4.5 per cent today, trading at 4.5c (11: 59 UTC+ 8hours).