Maximus Resources has confirmed rare-element lithium–caesium-tantalum (LCT) pegmatites across the company's key Spargoville Larkinville and Lefroy tenements southwest of Kambalda in Western Australia.
A caesium resource would be a significant additional find with the rare metal increasing demand from the oil and technology sectors. At the same time, lithium remains trading near all-time highs.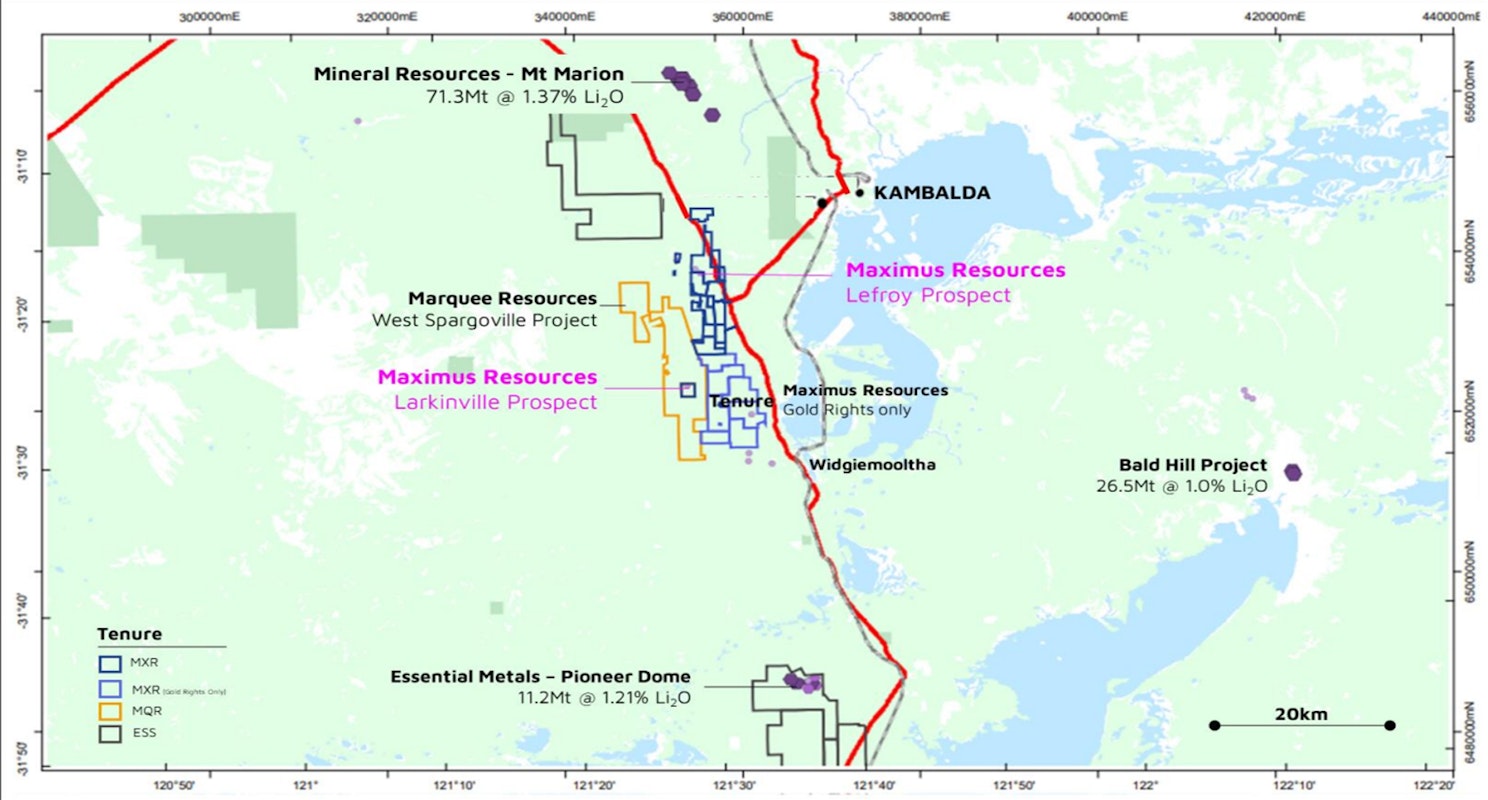 Maximus Resources Lithium prospects location map with significant deposits in the region.

 
The company – best known for nickel and gold exploration – says the independent fieldwork findings support several prospects' targeted lithium drill programs.
It says the review highlights the exploration potential for accessible lithium-bearing pegmatites at the underexplored critical mineral tenement.
The next step is a review of options to advance the lithium prospects across the Spargoville tenements.
Planning and approvals are underway for a programme in the second half of 2022.
Notable results:
Larkinville Lithium Prospect
2.7 % Li2O, 4,170 ppm Cs and 17,250 ppm Rb
2.0 % Li2O, 3,230 ppm Cs and 11,650 ppm Rb
1.4 % Li2O, 2,340 ppm Cs and 8,870 ppm Rb
Lefroy Lithium Prospect
1.97 % Li2O, 1,985 ppm Cs and 9,800 ppm Rb
1.61 % Li2O, 2,470 ppm Cs and 7,320 ppm Rb
1.49 % Li2O, 1,290 ppm Cs and 7,710 ppm Rb
MXR's Australian Stock Exchange-listed share price has risen 1.52 per cent today, selling at 6.7c (9.37 am UTC+ 8 hours).