Mt Monger Resources have demonstrated wide-spanning gold mineralisation remaining open at depth and along strike from its latest RC drill program at the Mt Monger project 70 kilometres south of Kalgoorlie in Western Australia.
Drilling has now confirmed a suspected mineralised zone is running over 250 metres long to the northeast at the Red Dale North prospect.
Mt Monger remains the focus for the Perth-based explorer who jumped at the first opportunity to explore its consolidated ground position in the early 2000s. At the same time, it continues to expand on battery metal ambitions near Ravensthorpe in the state's southeast.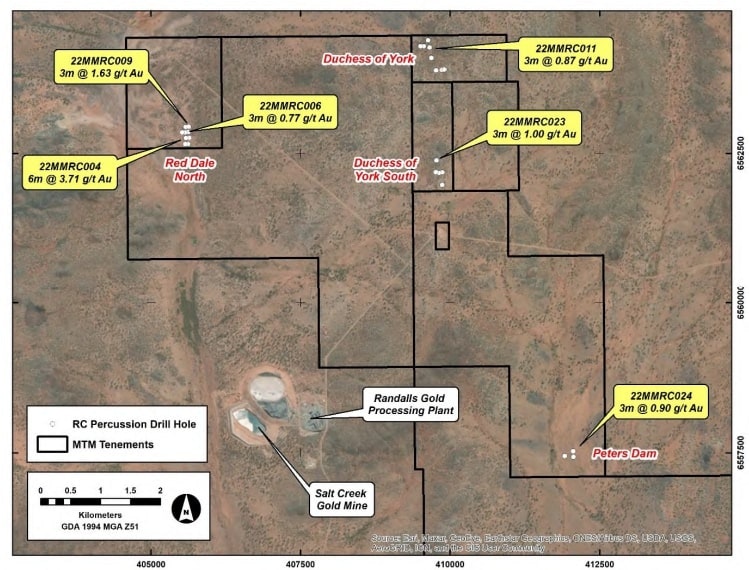 Location of completed RC percussion drill holes at the Mt Monger project with selected gold mineralisation intersections. 
The company said results had borne out its contention the area contains a widespread and undertested gold resource.
"In particular, the Red Dale North prospect appears to have continuity along strike and locally higher-grade mineralisation," managing director Lachlan Reynolds said.
"Once again, the drilling has successfully identified several areas that will require further drilling follow-up, and we believe that this project has excellent exploration potential for a gold deposit discovery."
Mt Monger plan for further drilling at several prospect areas while continuing exploration across its East Laverton and Ravensthorpe tenements.
Significant results:
6m @ 3.71g/t Au from 48m
3m @ 1.63g/t Au from 45m
3m @ 1.00g/t Au from 24m
3m @ 0.90g/t Au from 48m
3m @ 0.87g/t Au from 57m
MTM's Australian Stock Exchange-listed share price was trading at 14c today (9.12 am UTC+ 8 hours).