Maximus Resources have hit several shallow, high-grade intercepts from a first pass drilling campaign over its Hilditch Gold Project in the fertile Spargoville shear zone southwest of Kambalda in Western Australia.
The program moves Hilditch up in priority and has the potential to provide a material resource upgrade from a now-expanded mineralised envelope.
Hilditch lies just nine kilometres north of the explorer's Wattle Dam project, which has continued to increase in the potential for both scale and near-term production from the heart of Western Australia's Goldfields.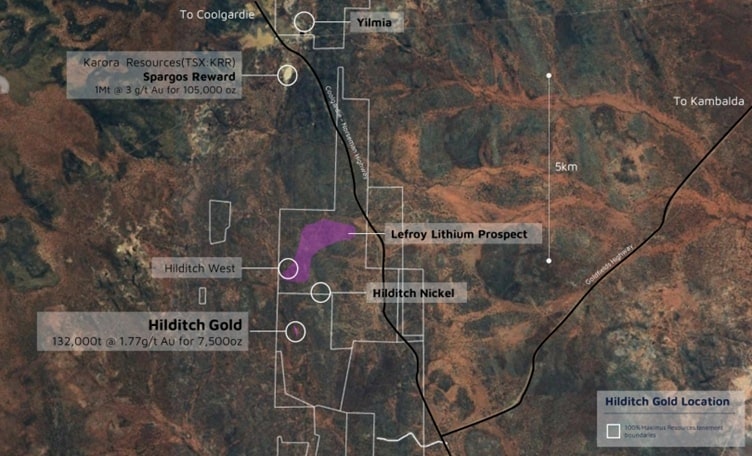 Hilditch Gold location map
The company said it was an encouraging first pass over one of its highly prospective Spargoville gold deposits.
"Hilditch is ideally located on the fertile Spargoville Shear Zone, between Karora Resources' high-grade Spargo's Reward and Maximus' Wattle Dam Gold Project," managing director Tim Wither said.
"The drill programme successfully expands Hilditch's mineralised envelope, testing both plunge at depth and strike length, and builds confidence further drilling is warranted."
Maximus will meanwhile finalise approvals for its drilling campaign targeting the corridor between the Wattle Dam and Golden Orb projects.
Significant results:
7m @ 7.9 g/t Au from 51m
7m @ 3.7 g/t Au from 11m
6m @ 3.4 g/t Au from 30m
2m @ 4.3 g/t Au from 70m
4m @ 2.1 g/t Au from 79m
MXR's Australian Stock Exchange-listed share price has risen 4.17 per cent today, selling at 5c (8.57 am UTC+ 8 hours).