Future Metals have upgraded the Panton deposit to 5 million ounces of palladium, platinum and gold, plus 238 kilotonnes of nickel and 20 kilotonnes of cobalt after an independent JORC estimate in the far north of Western Australia.
The updated figures prove the deposit to be of global scale — and the second largest of its type in the nation.
In just 12 months since fully acquiring Panton, the explorer has more than doubled its contained platinum group metals and swollen the contained nickel by a whopping 526 per cent.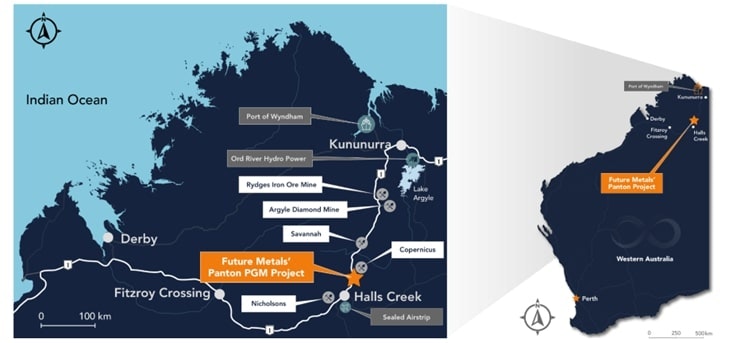 Panton PGM project location
The company said it was a pivotal milestone and increased the project's resource and scale potential.l
"There remains significant exploration upside at Panton with potential to add both tonnes and grade across numerous targets," managing director and chief executive Jardee Kininmonth said.
"We intend to follow up the success of the new MRE with a drill program which will test a number of exploration targets including the impressive northern anomaly which is highly prospective for concentrated sulphide zones."
While progressing metallurgy of Panton, Future Metals will move towards a scoping study to assess the best route forward.
FME's Australian Stock Exchange-listed share price has risen 10 per cent today, selling at 16c (11.00 am UTC+ 8 hours).