Metals One is developing critical mineral projects on the doorstep of the most extensive energy usage transformation in the world's history.
Overwhelmingly it is Europe's imperative to dramatically reduce carbon emissions, driving unprecedented demand for electric vehicles and the critical minerals to power them.
About 3 million new electric cars will be registered in 2020. For the first time, Europe led with 1.4 million new registrations. China followed with 1.2 million registrations, and the United States registered 295,000 new electric cars.
But what about recent predictions that a battery bull market is ending, with Goldman Sachs and Credit Suisse anticipating supply to enter a surplus around 2025?
"Despite fears of a global downturn, the push to EV will continue to elevate the nickel price," Metals One non-executive director Jonathan Owen says.
He is more than a little upbeat about the prospects of his soon-to-be AIM-listed London-based company beginning an extensive exploration of its projects, ideally located to supply into European markets.
"We will be switching mode from raising money to executing our work programmes within a matter of hours," Owen says.
Owen points out that 'not all nickel is made equal' when talking about powering electric vehicles.
"Our focus is on premium high purity nickel resources required for EV batteries," he says
"Class one nickel sulphate is critical in producing EV batteries with the lowest carbon footprint, and supply in Europe forecast to fall well short of demand beyond 2024 through to at least 2040."
Metals One holds an asset in Norway, already recognised as having world-class potential, and another in Finland — the latter located near Europe's only nickel sulphate producer.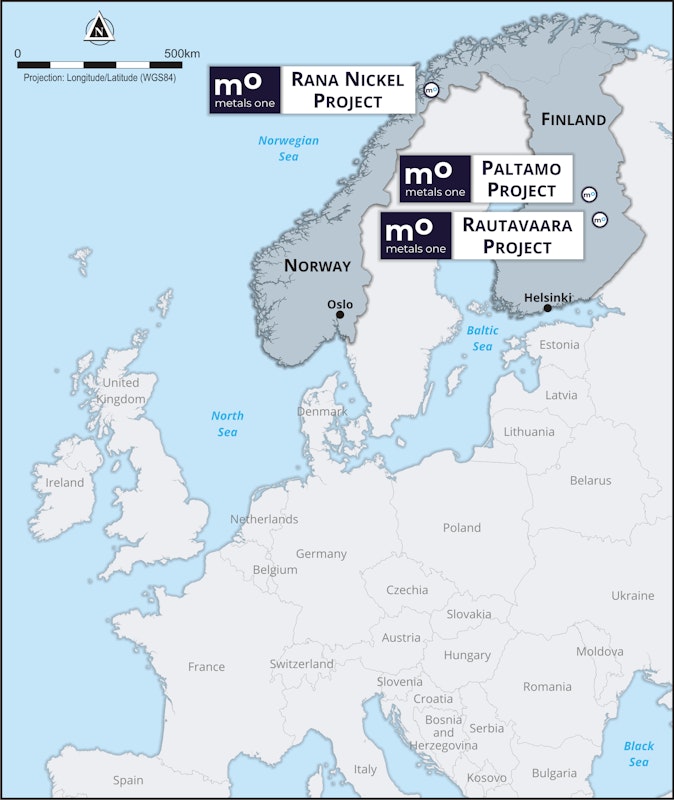 Map of European assets
Owen says the market has shifted towards direct-to-customer, with Renault and Tesla making significant supply moves, and Metals One's projects have already received considerable interest.
"The EV industry needs high purity nickel sulphate, which represents a proportion of the global nickel supply, and carries a significant premium," he says.
"Developing local sources of these critical metals on your doorstep, shortening supply routes, and processing these within some of the lowest cost green-energy power grids in the world, is critical in minimising the carbon footprint of EV batteries."
"The European EV market is one of the largest and fastest-growing in the world and is also looking to minimise its supply chain risk — sourcing from stable jurisdictions and with direct transport routes. You saw the challenges COVID brought to global supply chains and, more recently, the compounding impact of geopolitical events."
While Finland rests close to Russia and its prolonged conflict in Ukraine, there appear to be no signs of instability in the nation now formally invited to join NATO.
"Microsoft recently announced a significant investment in building data centres in Finland, and you have Rio Tinto active in Finland continuing to develop its investments, such as its JV with Bluejay Mining, which gives us a great deal of comfort," he assures.
"I have operated in Finland previously. I know the culture and how they feel about Russia — while I believe it is unlikely that Russia would directly threaten the county, if there is any country in the world which is best prepared for that, it is Finland."
Owen says Metals One has avoided the trap of bringing leadership aboard from similar backgrounds.
"As a board and executive team, we bring a diverse range of skills and operational experience across, for example, exploration geology, mining engineering, and corporate finance, which gives us the ability and confidence to move with agility in meeting our objectives," he says.
He notes the asset vendors will remain materially invested as significant shareholders.
"They wish passionately to see the successful development of our projects and are represented on the board and providing operational support on the ground."
Standing ready to sprint off the starting blocks on the listing, the company has teams of contractors, drilling equipment, and geophysicists standing by with permits in hand.
And Owen fully expects to round that first bend with pace.
"Within the first 12 months, we intend to have completed the Norway geophysics program, drilling and modelling, culminating in a resource statement," he says.
"In Finland, we will have completed the geophysics surveys and first, if not second, phase of drilling within the first 12 months, with an upgraded resource statement produced shortly after that.
"A lot of news flow, a lot of activity, and potentially another asset to bring to the portfolio."