Latin Resources (ASX:LRS) has unveiled promising assay results from the Colina Deposit, Colina Infill, and Fog's Block targets at its wholly-owned Salinas Lithium Project in Brazil, with expectations of boosting the Company's Global JORC Resource and elevating the Salinas district to a top-tier lithium jurisdiction.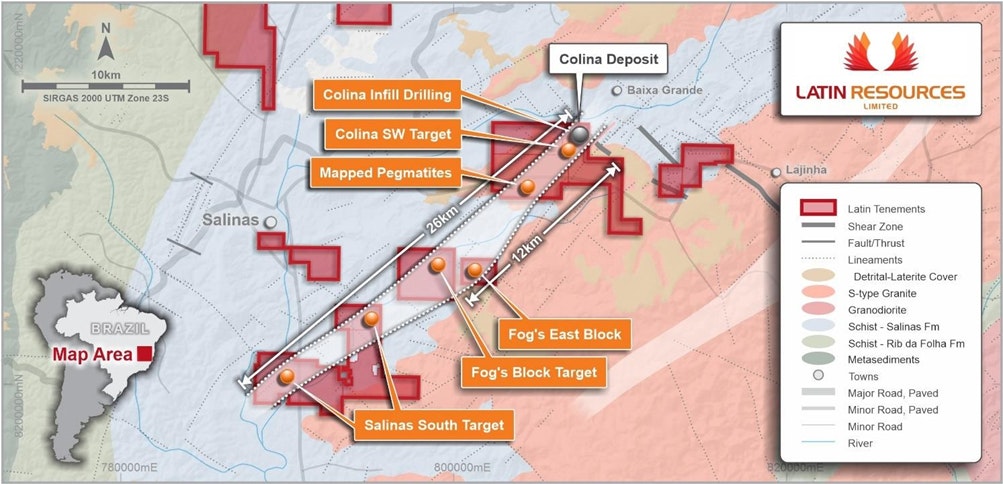 Figure 1: Colina Deposit plan, showing location of the Colina Extensional, Infill and Fog's Block drilling programs.
The Compelling Drilling Campaign
The current 65,000 metre drill program at the Salinas Project is set to increase, with the Company planning to operate ten diamond drill rigs beyond 2023 at Colina Deposit and Fog's Block, expanding the program through the entirety of 2024.
These encouraging results from the campaign are poised to substantially augment the global JORC Mineral Resource Estimate (MRE) through subsequent follow-up drilling.
Significant Results
The Company reports the following significant assay results from the Colina Southwest Extension:
SADD157: 14.7 metres @ 1.48% Li2O from 157.6 metres
SADD166: 13.8 metres @ 1.69% Li2O from 204.5 metres`
SADD168: 8.8 metres @ 1.84% Li2O from 242.0 metres
SADD175: 11.2 metres @ 1.15% Li2O from 132.5 metres
Notable Colina Infill assay results include:
SADD154: 19.0 metres @ 1.73% Li2O from 293.0 metres
SADD159: 7.7 metres @ 1.34% Li2O from 70.3 metres
SADD178: 14.0 metres @ 1.34% Li2O from 237.8 metres
Fog's Block significant assay results include:
MCDD004: 8.5m @ 1.33% Li2O from 155.1metres, including 3.8 metres @ 1.76% Li2O from 159.0 metres
MCDD004: 8.0 metres @ 1.08% Li2O from 230.4 metres
The Colina Deposit
The Company's exploration at Salinas has delivered multiple spodumene rich pegmatite targets and continued positive outcomes from its ongoing drilling efforts, generating a MRE of 45.2Mt @ 1.32% Li2O, including 30.2Mt @ 1.4% Li2O of the total resource now sitting in the Measured + Indicated category.
In September, Latin unveiled a robust analysis of its Colina Project presenting a Preliminary Economic Assessment (PEA) that outlined a low-capital, two-phased operation aimed at producing a high-quality SC5.5 product and a 3% Li2O spodumene tails concentrate, confirming the potential to establish Colina as a globally competitive lithium Project.
The assay results received to date from the Colina Extensional, Colina Infill and follow up results from Fog's Block drilling programs continues to improve the mineralised footprint of the Colina Deposit and firms a new mineral resource potential at Fog's Block.
The latest findings confirm the Company's interpretation that the mineralisation between Colina MRE and Fog's Block consists of the same high-grade spodumene mineralisation style, extending over approximately 12 km southwest from the current MRE.
Latin intends to expand the Colina Deposit footprint through additional drilling and assays, with an updated Colina JORC Mineral MRE expected by year-end.
The Company reports a total of 18 holes for 6,438.8 metres in infill drilling has now been completed since the Colina MRE was defined, with the drilling program demonstrating consistent high-grade mineralisation, providing confidence in the Company's ability to add additional tonnage to the existing Colina MRE.
New Pegmatite Swarms
Step out drilling to the southwest of the Colina Deposit has returned strong mineralisation intercepts extending the known pegmatite swarm cluster at the Project.
Latin's recent step-out drilling to the southwest has revealed the potential development of a third stacked pegmatite system.
Initial drill holes suggest that the spodumene mineralisation in this new system is an extension of the Colina Deposit, supporting the broader regional interpretation that the entire 12-kilometre 'Prospective Mineralisation Corridor' has the capacity to accommodate multiple deposits akin to Colina.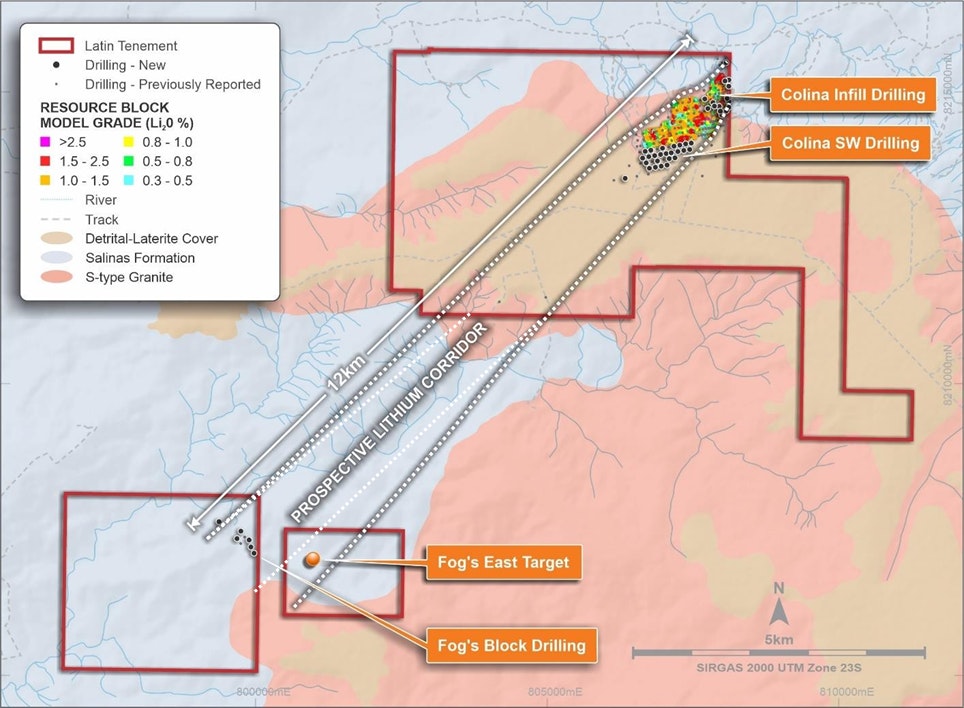 Figure 2: Colina Deposit plan, showing location of the Colina Extensional, Infill and Fog's Block drilling programs.
Fog's Block Target
The Fog's Block target presents fresh prospects for Latin, situated 12 kilometres southwest of its current MRE at the Colina Deposit.
The Company has conducted an additional four drill holes, totalling 1,612.4 metres, in the Fog's Block area, effectively extending the known pegmatites over a 500-metre strike and to a depth of 120 metres below the surface.
Furthermore, regional soil sampling and mapping at the new Fog's East tenement have unveiled additional exposed spodumene-rich pegmatites coinciding with lithium anomalies in the soil. Initial drill testing is set to commence this month.
With one dedicated diamond drill rig, the Company is actively drilling Fog's Block. The results received thus far demonstrate consistent mineralogy and structural controls akin to those at the Colina Deposit.
This consistency has bolstered the Company's confidence in the potential to establish a maiden resource at Fog's Block, a development that would enhance the overall tonnage of the Colina Project and improve its economic viability.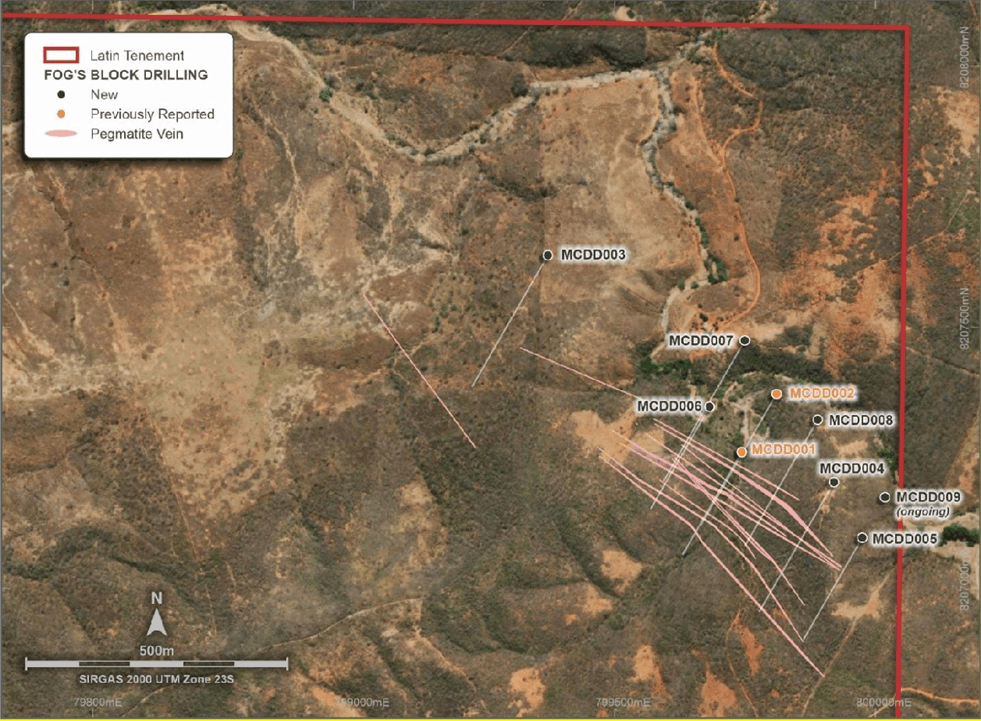 Figure 3: Fog's Block showing the completed and assayed holes
Tony Greenaway, the Vice President of Operations – Americas at Latin Resources, highlighted that the ongoing brownfields extension drilling at Colina and the greenfield exploration drilling in the region consistently uncover new pegmatites within the Salinas Lithium Project.
"Step out drilling immediately to the southwest of Colina has added significant strike extensions to the already considerable mineral resource footprint at Colina, and we expect that these will be incorporated into an updated resource estimate before the end of this year," he said.
"In addition to this, our step out drilling further to the southwest, has intersected what we believe may be a third pegmatite cluster. While it is early days, and more drilling is required to better define this developing pegmatite, we are extremely encouraged by this new discovery as it solidifies out interpretation that the Colina Deposit is just one part of a much larger system."
"Our regional exploration drilling at the Fogs Block tenement located 12km to the southwest of Colina, further enhances this wider regional interpretation, with new drilling now defining this high-grade lithium pegmatite over a strike of 500m and a down dip extent of 150m. This pegmatite remains open both at depth and along strike where it has been mapped continuing into the Company's adjacent tenure and highlighted by strong coincident lithium in soil anomalies."
"Our understanding of the regional potential of the Salinas lithium project grows with every new discovery we make, with now three well defined mineralisation systems and Colina, Colina Southwest and Fog's Block, with potentially a fourth now emerging."
LRS's Australian Stock Exchange-listed share price has risen 2.83% and is currently selling at $0.272 (11:45 am UTC+ 8 hours).